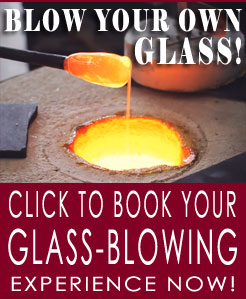 Visit Callahan's Firehouse Studio & Gallery today in the heart of downtown Langley on Whidbey Island to experience the wonderful art of glassblowing for yourself! We make learning the basics so fun and engaging that it may just become your new obsession.
Just about anyone can do blow glass: children, bridesmaids, groomsmen, grandmothers, grandfathers. Heck the whole family and even those business groups knee deep in team building can take a break and enjoy glass blowing. In fact, groups are great as the give you a chance to watch someone else first! But no worries if you are giving it a try by yourself or a friend, we will guide you through each step with personal one-on-one instruction. And it only takes about 30 minutes to blow your one-of-a-kind glass art.
Take a look at the video below to learn more about glass blowing. Or if you are ready to book an appointment time, click here.
Here are a few things you should know before you start your glass blowing adventure:
Appointments are required. Walk-ins will be assigned the next available time slot and may be as late as the following week.
COVERED SHOES REQUIRED. No sandals or flip flops. Long pants are suggested; cotton and denim strongly suggested. Remember, you're working with 2,100 degree material, so don't wear anything that melts.
You may choose any available color the Firehouse has available.
Minimum age limit is five, but there's no maximum age limit!